23rd September, 2014 (Montreal)
Here are some outtakes of work-in-progress of recent Stadium Art Movement murals:
BRITISH BLUE PRINT PUBLISHING IN COLLABORATION WITH SHANE WATT AND GREG DIRR (miami, fl)
Ste-Catherine Street, August 2014
Fresh Paint Gallery Montreal
June 2014 Exposition--lighting up Fresh Paint Gallery with QBNYC, FLN, Okies...the list goes on.
Brixton Foodies Anonymous--Fresh Paint Gallery 2014
UNDER PRESSURE INTERNATIONAL GRAFFITI FESTIVAL 2014
Entitled "Chelsea FC Under Pressure" --MVP Bar on Ste-Catherine Street gets on board the Stadium Art Movement.
VERDUN SPECIAL CREW
Clubhouse throw-up of Montreal aerial via Verdun. August 2014.
EF Educational Tours Mural (in progress)
Two perpendicular walls with a perspective bleeding into each panel.
Pen marking the outlines of Old Montreal.
Old Royal Bank Building on Rue Notre Dame rising to the right.
Colourization crew working full tilt while Movement Director moves around behind them.
Montreal Skyline starting to take shape. Hydro Quebec Building in corner starting to spread wings.
More colour now... Banque Nationale, Adred Building, NYInsurance Building, Place d'Armes, Parc Olympique...
Colourization continues... Corner perspective of two panels interacting.
Street-level detail (in progress).
More street-level walking about.
Still in progress.
Roof top breaktime.
Cabane a Sucre!
August, 2014 (Montreal) New York street artist QBNYC (Turtlecaps) invited the Stadium Art Movement to participate with a star-studded cast of other street artists in a secret gallery. With little more than a 12 day deadline, as many as 48 artists participated in the historical event. The media helped fan the flames with special mention in Cult Mtl [
see here
], La Presse [
see here
] and Le Metro [
see here
].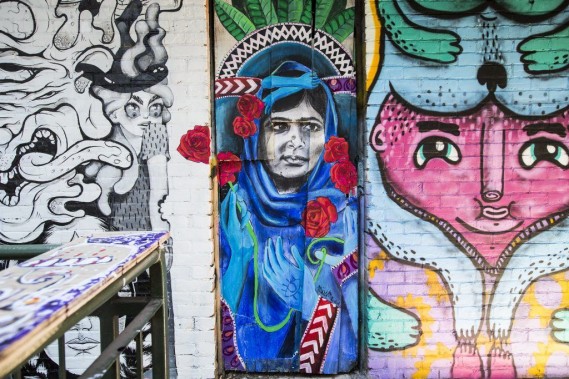 En Masse, MissMe and Waxhead all joined the Stadium Art Movement!
First we took the street, now we take the sky...
We already covered the underground...
Thanks to QBNYC for his generous support in this project.